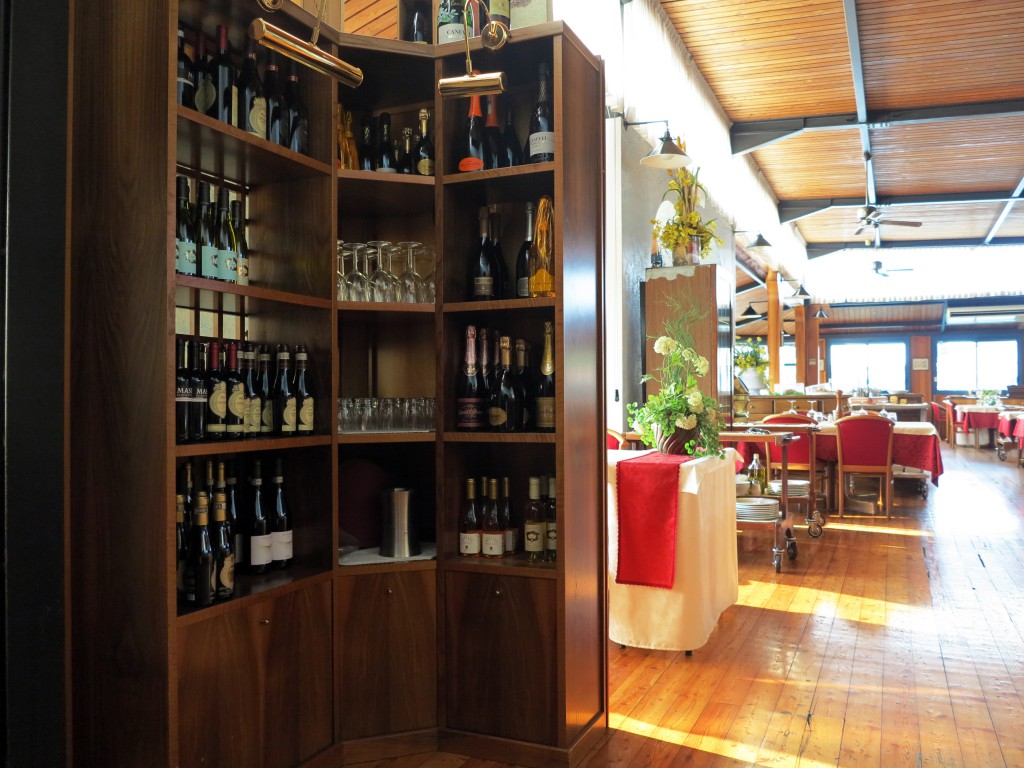 L'alcol vi ubriaca , non vi seduce.

Il vino prima vi seduce poi vi aiuta a sedurre.

Si concede poco a poco, chiedendovi

musica, gioco, parola, celia e letizia.

In una parola.. Vi strega.
---
Lugana
Our wine cellar offers a variety of white wine, typical of the area of Verona and Brescia. One of these is the "Lugana DOC", produces with Trebbiano's grapes, that you can find in the territories of Peschiera, Sirmione, Desenzando del Garda, Pozzolengo and Lonato. This white wine smells very fine and unmistakable. Very pleasant as an appetizer and also as an accompaniment for dishes based on seafood.
Collio Friulano
In our cellar we also have a variety of Collio Friulano's wines. The area of Collio is well-known for the production of Pinot, Tocai Friulano, Savignon and Ribolla Gialla. These types of DOC vineyards, exposed over a wide area, give birth to a wine full of history and penetrating aromas, fruity and flowery, with a touch of exotic fruit.
Red wines of Valpollicella's territory
As regard red wines, we have various products from Veneto. The territorial zone of the red wine "Valpollicella DOC" is very wide and it includes nineteen municipalities of the north of Verona. Valpollicella was born from three vineyards: Corvina Veronese, Rondinella and Molinara. Amarone is a worldwide known red wine and it has a very particular story. This wine could be considered as the brother of Recioto, another red wine. Infact both come from the same vineyard, but they have different fermentations. The fermentation of Recioto is interrupted prematurely: in this way we have a dessert wine with a high concentration of sugar part. Amaro instead was born for failure of a grower, who forgot the fermentation of grapes. In this way Amaro was born and nowadays it is known all over the world.
Franciacorta
As regard Couvèè wines, we offer a wide selection of sparkling wines called Franciacorta. These wines are produced in the territory of Brescia: this zone offers many privileges for viticulture. The ground is formed by stones, and it absorbs heat during the day and releases it during the night. The name "Franciacorta" has medieval origins. "Franche Cortes" infact was a land of abbeys, which had particular privileges. Viticulture in this area was already practiced in the Middle Ages, but it became systematic in the nineteenth century. This sparkling wine is the result of a classical method introduced only in the middle of the last century. Currently "Franciacorta" is the first and only Italian sparkling wine "brut" that is produced by the technique of fermentation in the bottle. Franciacorta is characterized by a pale yellow color, sometimes with hints of gold and greenish, and it has a rich foam. The scent is fruity, delicate, wide and complex, which recalls hints of berries and apples. The taste is harmonious, pleasant, fine and fresh, sometimes slightly bitter. The type "Rosè" presents smell and taste very similar to Franciacorta's ones, but as the name suggests, it stands out because of its pink color. This type is slightly more savory that the white sparkling wine.
Sipping wines
To finish off the meal we will be glad to offer you different types of wines to accompany the dessert that we produced ourselves. If Amarone is recognized as a prestigious Italian wine, Recioto is the Prince of Verona. This sweet red sipping wine is made from grape drying for 100-120 days, and its fermentation is suddenly stopped to conserve a percentage of sugar that gives to this wine an unique taste. The name derives from the dialect of Verona "recia" that means "ear", because it is used only the highest part of the bunch to produce it.